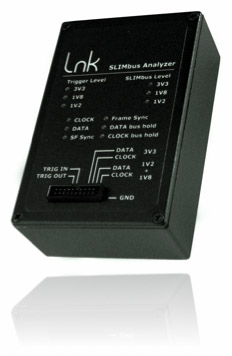 In use since 2007, The LnK Protocol Analyzer is an industry reference. It is so far the only vector of SLIMbus chipset interoperability.

The Protocol Analyzer decodes the SLIMbus bitstream and displays all the bit fields in a human readable manner. It provides all the features of modern protocol analyzers and even more. There are many levels of analysis, from the HEXA display of the slot value to the highest level of the Message Channel Protocol. The Data channels are also decoded. The analyzer allows exportation of the results in various formats: HTML to share with colleagues not having the analyzer, TEXT for post processing, ...

The SLIMbus Protocol Analyzer is the ultimate tool to see exactly what is happening on your bus.

A traffic generator is available as an option to the protocol analyzer. The traffic generator allows you to control avery bit transmitted on the bus and emulate Manager and any kind of Devices.