ScriptBuilder 1.4.5 - Release date 26th January 2015

ScriptBuilder is a XML script generator for the SLIMbus Traffic Generator. Most of the operations are achieved with mouse clicks and some text editing. ScriptBuilder also implements a SLIMbus simulator that executes all the message reconfiguration sequences. Framing information changes (subframe mode, clock gear and root frequency) are immediately applied. Data Channel setups are also verified and made effective. With ScriptBuilder, it is possible to write complex scripts in a few minutes and have the insurance that they will be fully compliant with the SLIMbus protocol detailed in the specification. Then, the user is free to insert any kind of errors in its script to trigger particular behavior at the device side. ScriptBuilder will flag any identified errors in such a way that the user can verify the type of errors he is inserting.
Together with the SLIMbus Bandwidth Management toolbox, Script builder provides the user a graphical display of the bus state over time and events.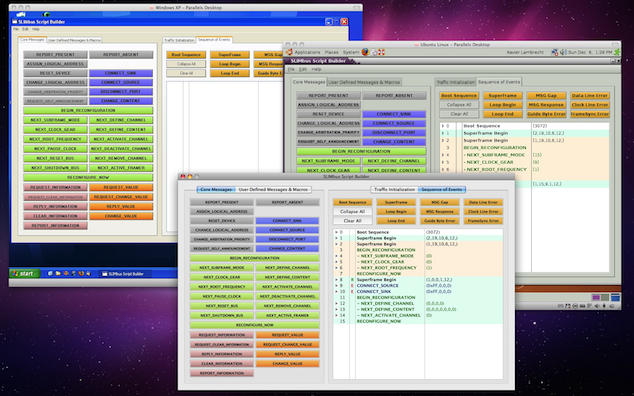 ScriptBuilder runs on the 3 major Operating Systems: Windows, Linux and Mac OSX.


Read carefully the documentation (ScriptBuilder User Manual). ScriptBuilder has powerful functionalities.